The University have introduced a new two-step login process to our single sign-on service, also known as EASE.
The EASE single sign-on service is currently used to allow you to access a number of our University services, including MyEd, LEARN and EUCLID.
Changes to the way you login to EASE
When logging into the updated sign-on service, you will now need to go through a two-step process.
When logging into a service that uses EASE, you will now need to input your username (UUN) and then click Continue. You will then be prompted to input your password: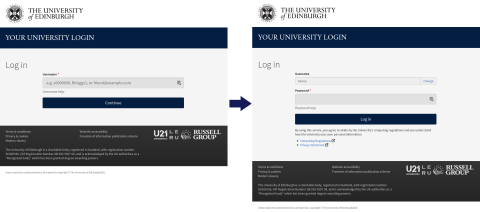 Help and support
If you have any difficulties accessing any University systems via your usual route following this change, please contact the IS helpline.
Related links